One great thing we've seen recently when it comes to slot machines, is that Marvel & DC have allowed online casinos to license their slots. This means that we now get Marvel slot machines and DC slot machines to play on.
These comic themed slots obviously play off the licensing, with slot icons for the comic character they are using, and bonus games specializing on that character.
Below are what I feel are the Top 10 Comic Slot Machines currently online:
#10: The Incredible Hulk Fruit Machine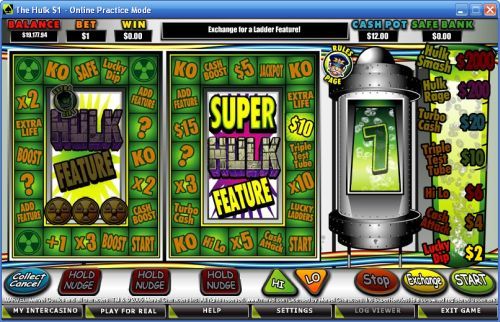 I must admit being from the UK originally, fruit machines always appear to me so much more than slots so I may be a bit biased when including this one! I love fruit machines, I love the Hulk, so this is perfect for me!
It's pretty much what you'd expect from a fruit machine, offering everything like the ability to hold, nudge and of course as seen above, the feature board. The Hulk fruit machine is a blast and highly recommended.
You can play the Incredible Hulk fruit machine at InterCasino.
#9: Iron Man Comic Slot Machine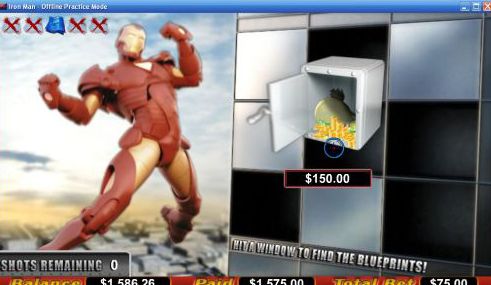 One thing I really like about the Iron Man Comic Slot is how simple it is. Honestly, sometimes I find most slots offer way too much in terms of spins, bonuses, multipliers etc and I get lost. Iron Man is a nice simple slot where I can immediately sit and play, without having to spend an hour reading the rules and payout schedule.
Iron Man is a simple slot with a lot of good options available in terms of how much you want to bet, and an easy bonus game. Iron Man also offers three progressive jackpots, the biggest of which is awarded on a completely random basis which I love. So you can lose your penny bet, but still win thousands!
You can play the Iron Man slot machine at InterCasino.
#8: Spiderman Slot Machine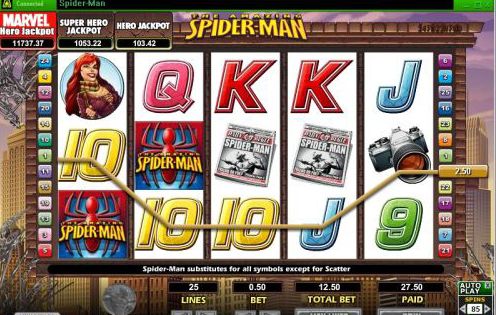 Spiderman has quite a few slot machines, and this is one I really enjoy. The slot iself is fun, and offers three separate jackpots to increase your chances of winning bigs.
What I really liked was the bonus game, how frequent it was, and how much fun it was. You play a bonus game where you have to go through the city, looking for Venom while fighting other villains, with lots of good prizes to be given. Free spins seemed to be handed out often too, where you get fifteen free spins and all prizes are doubled, PLUS there are more scatter symbols added.
You can play the Spiderman slot machine at InterCasino.
#7: Batman Slot Machine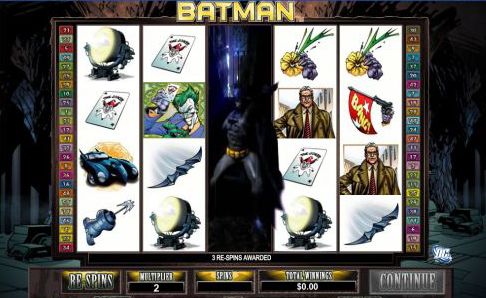 The Batman slot machine is pretty awesome, with really sweet graphics and animations. What I really like about it is that they went all-out – some comic slots you will see they use icons found in other games. Batman has completely unique batman themed icons.
The Batman slot also has a lot of great features like re-spins, bonus bets and a really sweet bonus game where Batman has to take on various inmates, before tackling the Joker in the final battle.
You can play the Batman slot machine at InterCasino.
#6: Superman Slot Machine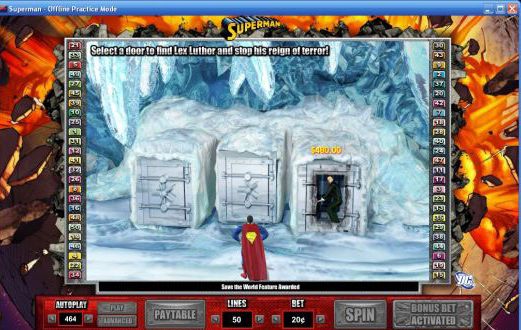 The Superman slot machine is a pretty solid 5-reel, 50 line slot. I must admit I was hyped from the second I loaded it, when it starts with a special Superman movie.
The Superman bonus game also has a neat twist, where you have to pick 1 out of 3 to win. The twist on this is what lies behind the doors, with a room full of hostages you need to rescue behind one, and Lex Luthor behind another. Only one door is a "fail" option which really increases your chances of winning.
You can play the Superman slot machine at InterCasino.
#5: Wolverine Slot Machine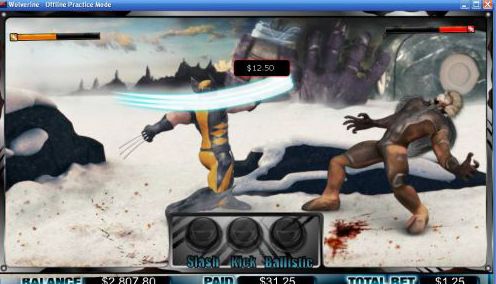 I'll 'fess up here – Wolverine is probably my favourite comic book character, which is why this one makes it so high on the list of Top 10 Comic Slots. But hey who can blame me – Wolverine is AWESOME! The slot itself is really sweet too, with lots of unique symbols and icons like Logan, Sabretooth and of course Wolverine!
The Progressive jackpots and respin feature are great too, but for me the highlight is the bonus game where you get to take on and beat up Sabretooth! Really fantastic game, probably my favourite bonus game out of any slot machine.
You can play the Wolverine slot machine at InterCasino.
#4: Hulk Ultimate Revenge Slot Machine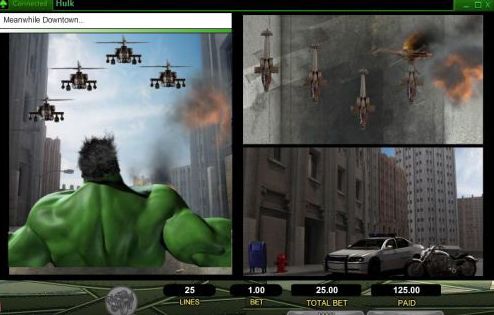 The Incredible Hulk Ultimate Revenge slot is really slick – what I like best about is is how they went all out with the sound effects. You get really immersed in the game, and I go nuts every time a scatter symbol appears because it results in a huge explosion.
The bonus game is really cool too – as shown above. The work that went into it is incredible, and I forget I'm playing a casino slot and think I'm playing a video game!
You can play the Hulk Ultimate Revenge slot machine at InterCasino.
#3: X-Men Slot Machine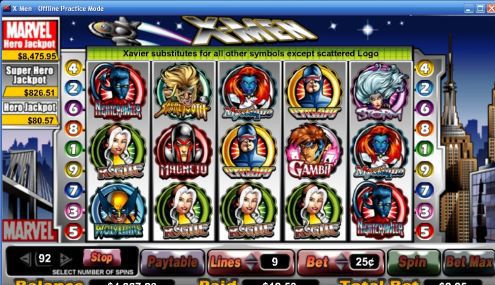 I can't resist having the X-men slot machine on this Top 10 Comic Slots list. There are just so many great things about it, like 3 progressive jackpots and a really cool bonus game.
The best part for me though is the actual slot, as shown above. All the unique icons featuring the likes of Wolverine, Cyclops, Xavier, Magneto etc is just fantastic, and is one of the top comic slots.
You can play the X-Men slot machine at InterCasino.
#2: The Incredible Hulk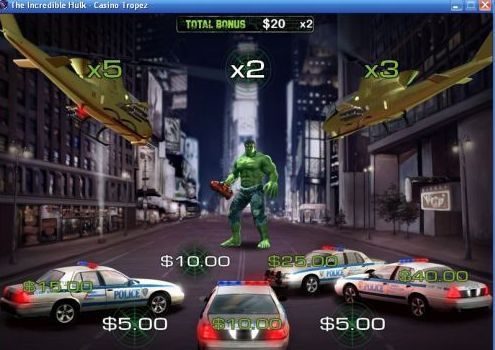 This slot machine is actually based more on the 2008 flick, but it's still a great slot and one of the top slot machines. One reason for that is it is on the Playtech software, which is one of the best casino software providers out there today.
It offers a variety of great factors, like the Smash Bonus Game, lots of free spins, and a tiered progressive jackpot! The bonus game is a blast, and HULK SMASH! has never been as fun, complete with various multipliers and HULK RAGE.
You can play the Incredible Hulk slot machine at Titan Casino.
#1: Hellboy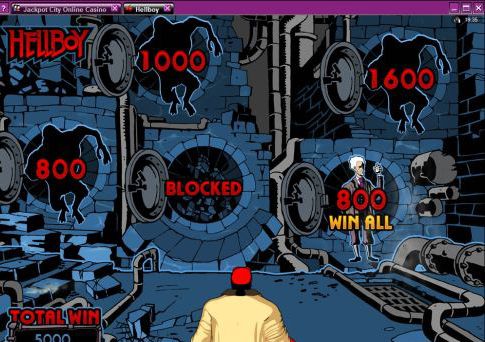 I'm actually not a fan of Hellboy the comic, but I absolutely LOVE the slot machine. I was hooked right from the beginning. It's also great that at the casino Hellboy is at, they have over 400 other slot machines too, so if you're a slot player you are SET!
The Hellboy slot machine has a lot of neat features, including various jackpots where you can win up to 10,000 your original bet. You also have the option of doubling and quadrupling each win.
On top of that, Hellboy has super mode where you get a ton of free spins, as well as scatter symbols and the underworld bonus game. The bonus game has had a ton of effort put into it, with 4 separate levels to travel through.
Overall, Hellboy is the top comic slot machine, and is perfect for any slot player.
You can play the Hellboy slot machine at Jackpot City Casino.